5 Natural Entryway Rugs for a Clean Aesthetic

By

Marie-Claire de Villiers

Reviewed by

Kirsty Macdougall
Updated March 2, 2023.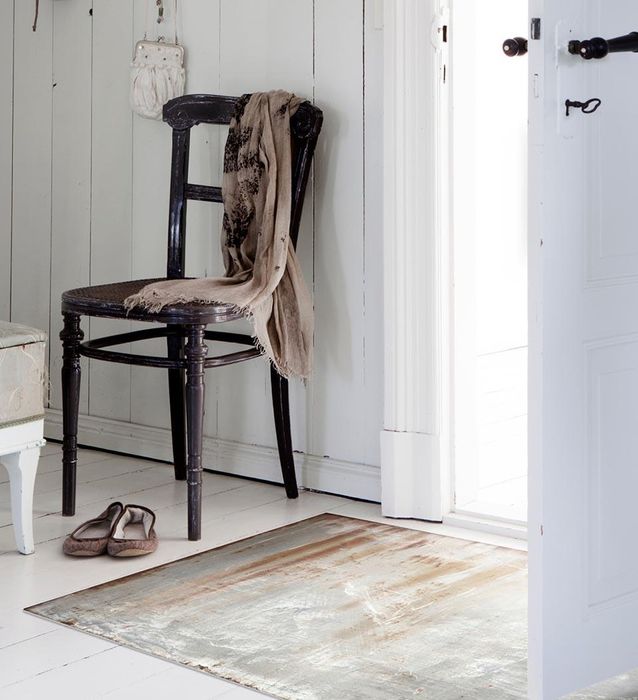 Finding the best rug for your entryway isn't so easy—you need to make sure it offers a warm reception and natural look while being easy to clean, quick-drying, and colorfast. A stylish entryway rug will elevate the feel of your entryway, setting the tone for the rest of your home décor. The size of the rug also matters, as it creates a visual flow and links the front door to the rest of your home. The standard size of a hallway runner is 2.5 x 8 feet (or x 12 feet), but you can also customize a bigger rug to fit your vision of the space. However, keep in mind it's best to allow 4–5 inches of open floor on each end and 4–6 inches on each side, depending on how wide the hallway is.
Apart from the right size, you'll want your entryway rug to have the right look—here are our five picks for entryway rugs that will give your entryway a clean aesthetic.
5 Best Entryway Rugs for Your Home
1. Best Neutral Entryway Rug for a Natural Look
This rug's look echoes the color and texture of a palm tree trunk—the Zoya weave looks just like natural fiber. With its warm, graduated color and effortless casualness, this rug will set a beachy mood in your entryway. Coming in a light tone of natural brown, it invites decoration with more definite, colorful items. As a medium-length runner, the Zoya Natural will perfectly fit your hallway, providing a relaxed note for your whole home.
2. Best White Entryway Rug for a Rustic Interior
A hardwood floor needs an entryway rug to soften the space and protect it from heavy foot traffic. The design of this rug is bold and looks just like the wood paneling traditionally used on a door. Choose the Wood Art White rug to add interest, light, and a rustic, traditional feel to your hallway.
3. Best Modern Entryway Rug for a Casual Home
With light blue, gray, and rust patches, this runner rug looks like an abstract mood painting, as if a rusting process has organically colored it. The rug is casual and organic, offering flexibility to decorating options: you can use it to either dress up the space or extend the restful organic tone into other décor items.
4. Best Boho Entryway Rug for an Inviting Space
Using a patchwork pattern on the entryway floor gives the space homeliness, interest, and a crafted look. However, as the Jasmine Black Patchwork rug adds visual busyness, your decoration must be minimal in the small space of the hallway to avoid a cluttered look.
5. Best Patterned Entryway Rug for a Unique Hallway
In case you want to copy the entryway rug to the rest of the house, the Gothic Modu Floor solution allows you to buy a patterned vinyl floor covering to your exact size specifications. This makes it possible to cover uniquely shaped spaces, use a little or a lot, and use this rug in any room. This striking design in earthy tones works well in any space when paired with harmonious décor items to enhance its unique look.
Give Your Entryway a Warm Feel With Homey Natural Rugs
For an inviting feel that will charm your guests and set the tone for the rest of your home décor, decorate your hallway with a rug that has a natural weave and soft tones of brown, cream, grey-blue, or taupe. This will reference nature outside the front door, implying spaciousness in your home and creating a relaxing, inviting atmosphere for visitors.