7 Best Hallway Rugs to Make a Great First Impression

By

Marie-Claire de Villiers

Reviewed by

Michelle Meyer
Updated February 28, 2023.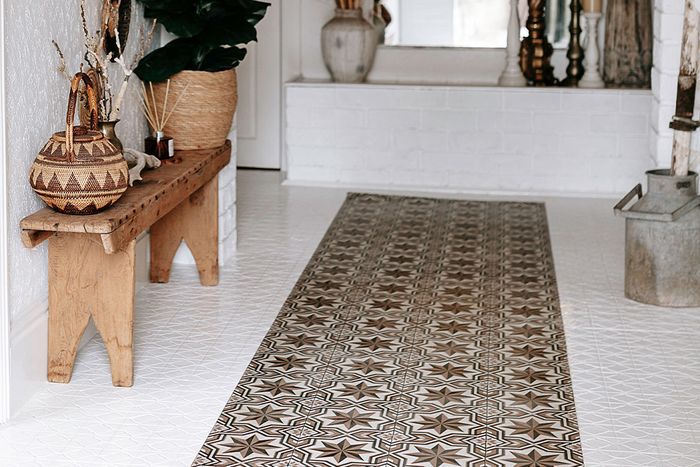 Your hallway, while typically not large enough for much decoration, presents a great opportunity to make a statement with your rug and create a warm and inviting space for your guests. With the right rug, your hallway can become an island of interest and style, showcasing your personal flair and making a great first impression. Vinyl is an excellent material choice for hallway rugs because it is easy to clean and durable, making it perfect for high-traffic areas where pets and kids often track dirt and debris through.
Choosing a stylish theme or color for your rug can set the tone for the rest of your home and create a positive first impression. Consider a custom-designed runner or rug for your entryway if you have a specific style or color in mind.
7 Best Hallway Rugs
Best Dark Area Rug for Your Vintage Hallway Design - Wood Art Black
Best Rug to Elevate Your Minimalist Decor - Barcelona Powder
Best Bauhaus Rug for High-Traffic Areas - Bauhaus Silver
Best Concrete Area Rug for Modern Hallways - Sofi Blue Concrete
Best Beige Rug for a Sophisticated Design - Suzanna Powder
Best Tile Rug to Match Your Hallway - Gotic Ancient Tile Antique
Best Stylish Rug to Brighten Up Your Hallway - Magnolia Beige Antique
A hallway rug can bring a soft touch to your space while also protecting it from the wear and tear of foot traffic. The Wood Art Black rug is a bold and dramatic choice that will add interest to lighter hardwood floors and neutral walls. Its natural-inspired design makes it a great fit for those with a "natural" design theme. When it comes to positioning your rug in the entryway, there are different options. Placing it directly by the front door can create a warm and welcoming feel.
» Bring a touch of nature to your home with the Wood Art Black Rug
Entice your guests with the bold and eclectic patterns of the Barcelona Powder rug. With tones of white and stone greys, this rug will elevate any space. Place it in your entryway under a console table or in front of it, or center a coffee table on top of the rug if you have a wider entryway.
» Elevate your minimalist decor with the bold patterns of the Barcelona Powder Rug
The Bauhaus Silver vinyl rug is where bold Bauhaus meets decadent Art Deco. It is sure to make a striking statement in your entryway, and you can never go wrong with classic black and white. While this design is distinct and eye-catching, it also offers clean minimalism that is visually appealing. Let this rug define your entryway space with its distinct style.
» Make a striking statement in your entryway with the Bauhaus Silver Rug
Sofi Blue Concrete brings a contemporary twist to traditional design. Perfect for entryways that receive a lot of natural light, it can be matched with concrete grey walls to complete the look. Geometric rugs can work wonders for an entryway, introducing a dynamic and vibrant modern design that adds depth and beauty to the space. You can also complement this rug with pieces of furniture, such as an accent chair or a modern and sleek bookcase.
» Add a contemporary twist to your hallway with the Sofi Blue Concrete Rug
Suzanna Powder showcases handcrafted artistry and is a great option for adding warmth and sophistication to your entryway. The beige color palette pairs well with green plants, light walls, and whitewashed wooden floors, creating a clean and natural aesthetic. To add depth and texture, consider layering this rug on top of a larger one in a solid color, which can add a lively and interesting element to your space.
» Achieve a clean and sophisticated look with the Suzanna Powder Rug
The entryway is a crucial space in any home as it sets the tone for the rest of the house and provides an opportunity to make a good first impression on guests. That's why we highly recommend the Gothic Ancient Tile Antique vinyl rug, as it features timeless and intricate patterns that are sure to catch the eye. To create a cohesive and harmonious look, we suggest pairing this rug with neutral colors in your entryway décor.
» Make a timeless statement with the Gothic Ancient Tile Antique Rug
Why not match your doormat with your Magnolia Beige Antique rug for a coordinated look within your entryway? It can add a pleasant cohesiveness to this space. Consider centering your rug in front of the door for a more symmetrical look.
» Add a pleasant cohesiveness to your entryway with the Magnolia Beige Antique Rug
Best Shades for Your Hallway Rugs
Choosing the right color for your hallway rug depends on the size of the space and the available light. To enhance your hallway and create a visual introduction to your home, consider combining rugs or choosing a color that meets the demands of this busy space.
» Still not sure what to do? Find out how to Enhance Your Entryway With the Perfect Rug Choice
Customizing Your Rug Size To Match Your Hallway
If you have a specific vision for your hallway rug that you can't find in stores, consider customizing one to fit your needs. Beija Flor offers a customization service that allows you to create a rug that matches your unique aesthetic. This adaptable flooring service gives you the flexibility to explore different placement options to find the perfect fit for your space.
If you prefer a more hands-on approach, there are several practical ways to customize your rug. For instance, you can use a permanent marker to draw linear patterns on a plain rug or join two rugs together with sticky backing tape. Another idea is to over-dye an old, worn-out rug to give it a vintage look or create a patchwork rug by joining carpet tiles. Finally, if you have a favorite fringed throw, you can repurpose it into a rug by sewing a piece of non-slip fabric onto the back.