Home Harmonization: How to Pair Rugs With Wall Art (5 Methods)

By

Natasha Johnson

Edited by

Michelle Meyer
Published September 19, 2022.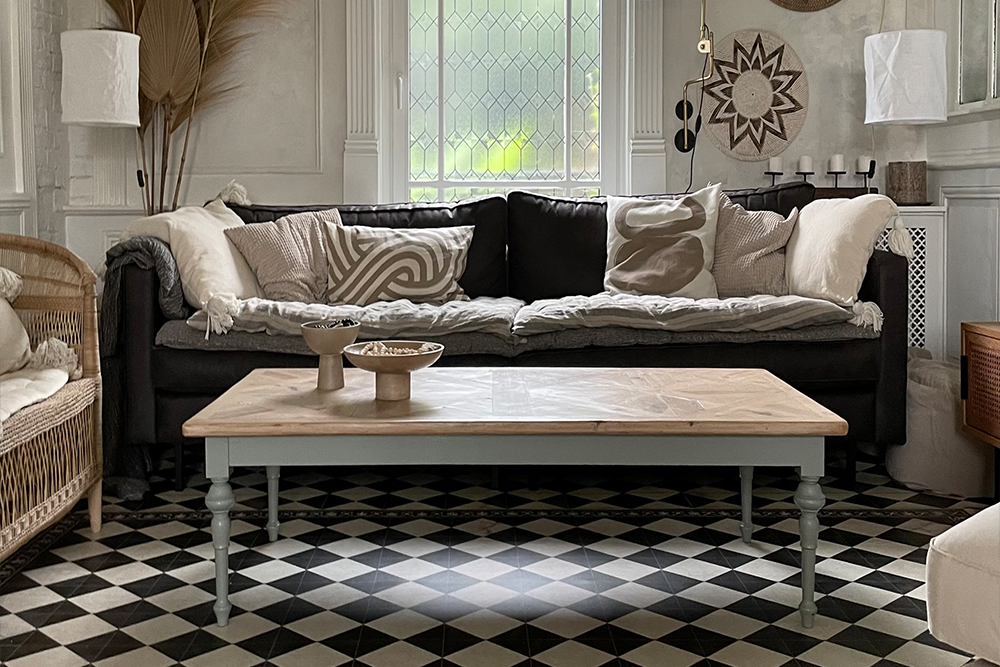 When choosing a color palette to match your wall art, think of the classic 60-30-10 interior design rule, dividing a color scheme into percentages of color use. The main color should represent 60% of the color used in your room design, while 30% is the secondary color or texture, and the last 10% can be an accent. You don't want too many items visually fighting with each other to catch your eye.
Your rug can blend together cohesively with the other elements in the room for balance or offer high contrast that will bring movement and dynamism into your space. Here are 5 ways to create harmony in your home by matching your rugs to wall art:
1. Color-Match Rugs With Your Wall Art
When color-matching your rugs with your wall art, it's important for the rug(s) to match your wall art and not the other way around. This combination can be a wonderful way to create harmony, as these two elements can reinforce each other in a stylish and sophisticated manner. Choose a central theme to make sure the rest of the room flows with the wall art. You also don't want your wall art to be overpowering. Remember, harmony is key.
Color Contrasting
Color contrasting (using lighter and darker shades) can help to bring liveliness and dynamism into your room. This allows the opposite colors to stand out and create visual interest. You can make a bold statement by using contrasting colors like black and white, especially by creating a tile accent wall.
Color Blending
Color blending is a great choice if you want to create calm and harmony in your space. In this case, your rugs and wall art would have the same or a similar color palette.
2. Match Rugs With a Secondary Color in Wall Art
The aim of a secondary color is to complement the primary color and provide you more range and room to play with. Using two different colors or shades can offer high contrast, for example, if your wall art consists of shades of yellow, a purple rug will complement it as the secondary color, bringing vibrant energy into your room. Add in a beautiful vase or other elements that can share the primary color shades. This approach can work well when incorporating wall art into your dining room, because you can play with table settings and decorations, such as flowers, napkins, and table cloths and runners.
3. Match Rug Design to Art Style
You can mix and match in a fun way, while creating harmony, when matching your rug design to a specific art style or theme. If your art style is Bohemian-themed, consider a neutrally toned rug with softer colors to create warmth and balance with the vibrancy of the look. Another approach would be to buy a rug with similar styles and patterns. A colorful Kilim rug could work very well with a Bohemian look and feel. Persian rugs could also be a gorgeous option that would complement a more classic subtle art style like antique items or vintage black and white photographs.
4. Make the Rug the Focal Point in the Room
If you find a rug that really stands out, consider making it the central art piece in the room. Rugs come in so many different captivating styles, colors, and patterns, they can very easily become the strong focal point. Here you can style the décor with the bold rug by adding an art piece that would match your rug's design, but without lessening its impact.
5. Match the Mood of Artwork with Rugs
A lovely way to create harmony is by unifying the "mood" of your area rug and artwork. If your rug is bright and cheery, look for a bold bright artwork. For a darker and dramatic look, a similar painting will help to solidify the mood.
Conclusion
Pairing rugs with wall art is a lovely way to create a theme within a room, whether you're matching rugs and wall art in your living room to create a welcoming atmosphere or choosing wall art for your bedroom to create a sanctuary. Play around and have fun, just remember to focus on the existing palette, and consider timeless art that you love, not just what would be best suited to the room. Consider the mood you want to create and embrace something totally out of your comfort zone!