9 Best Bold Rugs and How to Decorate Around Them

By

Natasha Johnson

Reviewed by

Nevena Radulović
Updated January 27, 2023.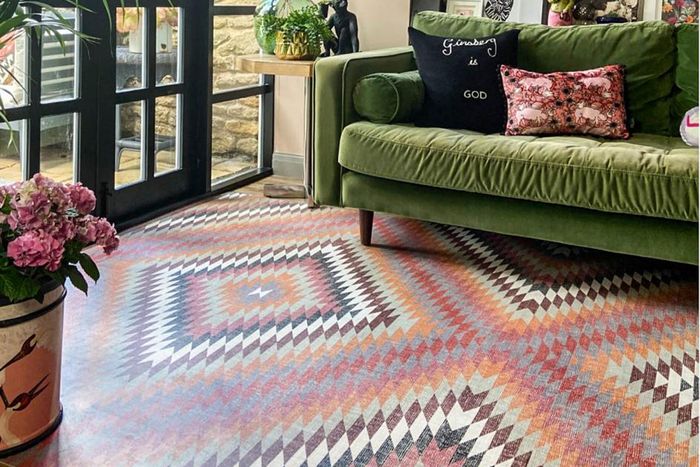 Are you looking for the perfect bold rug to tie your room décor around? Although bold rugs can be intimidating to decorate around, there are creative ways to use a bold rug to create an amazing aesthetic with striking colors and patterns without feeling overwhelmed.
If you're keen on adding show-stopping rugs to any living space, we bring you nine stylish bold rug options, along with helpful decorating tips to create a cohesive room design.
1. Best Bold Rug for Your Neutral Décor
Combining bold rugs with décor in a neutral palette is a match made in heaven. Whether you pair this bold rug with clean, white, or cream walls or furniture in darker tones like espresso or chocolate, you'll undoubtedly achieve the balance between neutral and bold.
The rug's bold patterns and colors can bounce off the neutrality of your furniture, becoming the focal point of your living room. This look will pull a room together without overwhelming the space. To make the best out of the rug, we recommend you take into account the size of your couch compared to the rug. If you're trying to create a sense of comfort, make sure the rug is at least as wide as your couch.
2. Best Bold Leopard Rug to Match Your Bedroom
Nothing says bold quite like animal prints—and a leopard print rug like this one even more so. To ensure your bold rug blends into a space, pull a color or two from your patterned rug and bring in small accessories to match the color code.
If you're placing this rug in your bedroom, we suggest pairing your bedroom décor pieces like lamps with one of the rug's colors, while other items like your throw pillows and blankets can match with the other color of the rug. This will create a more cohesive look, with the rug at the core of your bedroom décor.
3. Best Patterned Rug for a Bold Interior Design
Overdyed, saturated, and bold floral rugs work so well with rich walls, they positively deserve each other! If this is the design aesthetic you're going for, there's no need to play it safe—we say go for it in style with the Zsa Zsa rug! Richly patterned rugs like this one can match rich wall colors beautifully, even if they're differently patterned.
If you want to add a dramatic touch, you can match this rug with deep gray walls. Alternatively, we feel that this rug can steer your room in a very modern direction with other bold colors like blue or red. Whatever your choice, further styling the rug with other décor pieces that match the richness of your wall colors can play into any theme you like.
4. Best Bold Floral Rug for Layering
Decorating your room with bold colors allows you to embrace a playful spirit, bringing life and joy into any room. If you like playing with colors, we just know you'll love layering your rugs and placing the Mary Black rug on top.
For the full effect, you can bring wall art, flowers, and accessories into the mix too! Layer your bold Mary Black rug on top of neutral, warm-colored rugs, or combine it with a rug that brings a different aesthetic (but not too opposing one). This way, you'll bring a pop of color and whimsy while ensuring your décor doesn't overwhelm the eye.
5. Best Striped Rug for a Bold Living Room
Styling your space with a black and white rug is easier than you think! Going bold isn't just about rich vibrant colors—in fact, you'll achieve an amazing look by offsetting vibrant colors with a classic black and white rug. And if this timeless color scheme is presented in a bold design like the one on Breath Floor Art Vinyl Rug, you have yourself a winning combination.
This rug can be a strong focal point in any room of your choice. As it's quite versatile, we recommend pairing it with both neutral and vibrant décor pieces—the black and white combination literally goes with anything!
6. Best Bold Floral Rug for Your Dining Room
If you want your dining room to shine, we think this lovely bold color is just what you need! This rug will infuse your dining room with a cool summer ambiance and a fresh look, working especially well when paired with simple furniture like a dining table and chairs made from light wood.
And if you want to create a more cohesive look, you can match the rug with similarly lively table runners, placemats, and other dining room décor that will complement this rug's gorgeousness!
7. Best Checkered Bold Rug for Adding Texture
Monochrome doesn't always mean boring, and this rug is the ultimate proof! As various color options of modern bold rugs can sometimes feel overwhelming to the eye, sometimes simple color palettes like the one Gambit Chess Antique rug offers work better.
When styling this rug, consider the space of your room. If your room is larger, a variation in color and patterns in your other décor elements will work best. However, to pull a smaller space together, you can work with the same hue in similar white, black, or neutral shades.
8. Best Unique Runner Rug for Bold Interiors
Any décor expert will tell you that bold rugs don't have to be limited to living spaces—they can work in stylish entryways or even staircases too! Refreshing the look of your entryway with a bold, energetic rug like the Frida Pattern is a great opportunity to think outside of the box.
This way, your visitors will be greeted with a testimony of your bold personality right upon entering your home. To make it really effective, style the rest of your entryway in a neutral color palette.
9. Best Rug With Bold Patterns
When you add a bold rug with bright colors to a room, it energizes the space—but if that's not the look you're going for, you can easily tone it down by adding warmth. Rugs that get their bold edge from patterns but have warmer tones like the Rock Star Gold Rug are a simple way to spice up your space without making it too bright.
When styling this rug, keep in mind that pairing it with tones like burgundy and brown will add a deliciously warm richness to the room, while calm and cool colors like blue and green will bring a fresh summer touch to your living space.
Go On, Use That Bold Rug!
We absolutely love what bold, vibrant rugs can do for a room! Whether you want a statement piece, a unifying tool to visually connect different spaces, or simply a way to add some flair to your space, don't hesitate to use a bold rug!
Rugs with bold patterns or deep rich colors like the ones on our list will certainly make your space quite unique! No matter what room you're choosing it for, it's your space to play with—so, go on, use that bold rug!
» Didn't find what you're looking for? Browse all our vinyl rug options to find the perfect bold rug for your taste.