Placing an Area Rug in the Living Room

By

Kelli Harris

Reviewed by

Nevena Radulović
Updated March 2, 2023.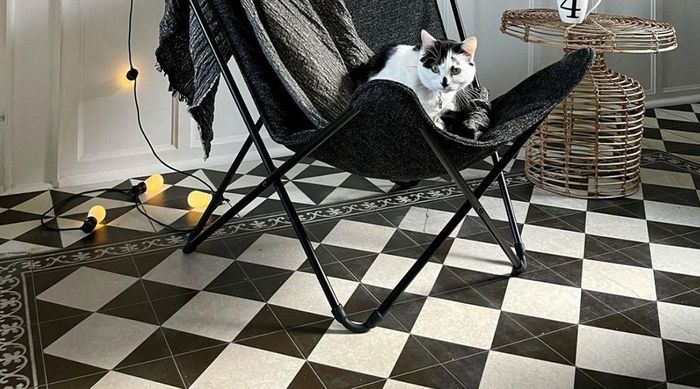 As if choosing the ideal area rug for your living room wasn't challenging enough, you also need to how to properly place it so it can effectively serve its aesthetic and functional purpose in your space. To avoid throwing off the balance of the entire room with your area rug, while placing it you'll need to consider aspects such as the area rug size, rug centering, and your living room furniture arrangement.
In this post, we'll let you in on some styling tips to take the guesswork out of finding the perfect placement of area rugs in your living room. So, whether you're a novice interior designer or a seasoned professional, you'll find something here to help you create the harmonious space you want.
» Need help with bedroom rug placement instead? See where your rug will fit best
How Big Should a Living Room Rug Be?
When it comes to area rugs, bigger is definitely better! However, exactly how big your area rug should be will depend on the size of your living room. For the best effect, aim for a rug size that's as big as your room allows while making sure it doesn't touch the edges of your walls—around 18″ of exposed floor space around the rug's perimeter is the perfect balance.
To create a more open and complete feel, place your furniture on top of your area rug. However, keep in mind that every living room is different, so the right rug size for an open-concept living room may not be the same as for a smaller living room. To avoid a cluttered look, we recommend making sure that the rug is 6–8″ wider than your couch on all sides.
Does Your Living Room Rug Need to Be Centered?
If you're having trouble figuring out where to place your area rug, consider a central location first, since this is usually the best spot for an area rug. The key is to position the rug in a way that complements your main furniture and the overall layout of the room.
However, as we already mentioned, every living room is different and deserves its own rug placement approach. If your living room has an unconventional shape, centering the area rug might not work so well. In that case, try experimenting with different rug shapes and placements, but make sure your furniture is positioned around the outside of the rug to create a visually pleasing look.
When it comes to rug centering, you don't have to be too precise. In fact, sometimes it looks better to line up your sofa with the corner of the rug instead of perfectly in the center. So, don't be afraid to play around with different options and see what works best for your space.
3 Best Placements for an Area Rug in the Living Room
Aside from the central and corner placements mentioned above, other area rug placement factors include positioning the rug in different ways in relation to your living room furniture. The best placements in this respect include the following:
1. All Sofa Legs off the Rug
If you have a small living room, placing your area rug in the center with all sofa legs off can make it the focal point and create a feeling of openness. This also works great if you want to combine rugs in an open floor plan space to designate separate areas.
2. Front Sofa Legs on the Rug
We find this layout perfect for creating a well-grounded living room. Placing only the front legs of your sofa on the rug is a fantastic option for making the living room feel more spacious or if your sofa is placed against a wall.
3. All Sofa Legs on the Rug
This layout works perfectly for a larger, open-plan living room. If the living room area rug is large, your sofa can sit completely on top of it to tie in the seating space more cohesively. However, we suggest leaving a few inches between your sofa and the edge of the rug for a more visually pleasing effect.
» Find out if you should put a small rug under your coffee table
Is It Better to Place a Rug Under or in Front of Furniture?
While it's generally better to place a rug under your furniture to protect the floor underneath, this decision ultimately comes down to how much space you have to work with. While placing your area rug under the furniture will beautifully tie in a larger living room, this placement can make a small living room feel even smaller.
To avoid making your living room feel cluttered, don't place your area rug too close to the walls. Instead, we recommend positioning it in a way that allows a decent strip of visible flooring between the rug and the wall. This rule applies to placing a rug on a carpet as well.
Can You Use the Same Area Rug in Different Rooms?
Although it's possible to use the same area rug in different rooms, we suggest being extra careful if you do so, taking into account its size, pattern, and how it fits into your décor. Since you should choose the rug's size and pattern according to the room you want to place it in, reusing it in a different room can have an unexpected effect on the décor.
For example, if your large living room is styled with a bold rug, applying that same rug in a smaller room could completely overwhelm it. So, if you want copies of the same area rug to build a theme throughout your home, go for more delicate rugs that will suit even small bedrooms.
Also, don't forget about the style of the room, which can make the rug look out of place. For example, a dramatic bohemian-style rug would look amazing in a boho-chic living room, but that same rug won't make much sense in a more traditional space.
Place Your Area Rug Perfectly for a Harmonious Living Room
No matter your level of design experience, you can now confidently choose the perfect area rug placement for your living room with these general layout tips and a little creativity. Remember, it's all about creating a cozy and harmonious space that reflects your style. Start experimenting today and see what works best for you!
» Looking for an area rug to place in your living room? Browse our collection of beautiful vinyl mats and find the one that fits your space and style.