How to Choose the Right Living Room Rug to Elevate Your Décor

By

Kelli Harris

Reviewed by

Nevena Radulović
Updated February 2, 2023.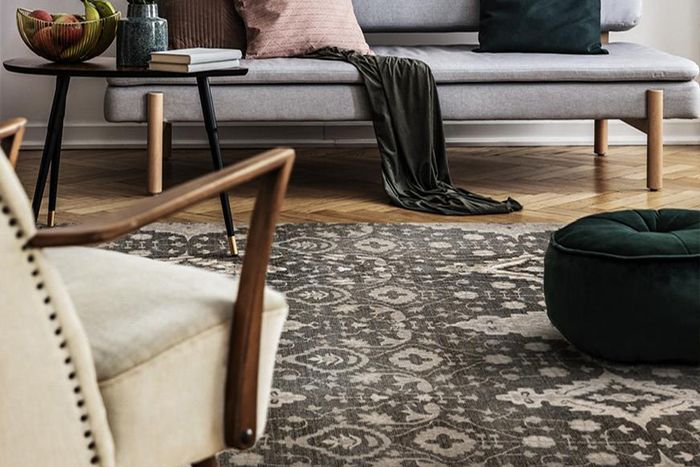 Choosing the right rug can completely transform your living area, adding a unique personality and serving as a focal point to enhance the overall look and feel. A rug can also help define different spaces in your living room, bringing a sense of warmth and making your home more comfortable and welcoming.
However, rugs can make or break your décor and are supposed to be a lasting investment, so it's important to choose a durable one that's easy to clean while being beautiful. To help you make a wise investment that meets both your practical and aesthetic needs, we bring you our expert tips for choosing a living room rug.
3 Factors to Consider When Choosing Your Living Room Rug
The key to choosing the right living room rug is to keep the following three aspects in mind:
1. Rug Size
Knowing exactly how big your area rug should be in relation to your living room is a very important element when deciding which rug to purchase. Generally, when it comes to living room rugs, the bigger the better—you'll want as little floor showing as possible. A rug size from 8×10ft to 9×12ft is a general rule of thumb for most living rooms.
However, we suggest you also make sure the rug is 6-8″ wider than your sofa on all sides, leaving about 18″ of exposed floor space around the perimeter of your area rug for a more spacious look. The rug should also run the entire length of the sofa at least. When it comes to rug size, our favorite trick is using masking tape to experiment with different dimensions before deciding on a rug.
» Find out the right area rug sizes for open concept living rooms
2. Rug Placement
When choosing where to place your living room rug, consider a central placement to bring all the elements in your space together. While practices like using Feng Shui for rug placement have more specific goals, the general object of correct rug orientation is to create more cohesion and harmony in your space. To help you decide on the right rug placement for your living room, we've listed the three main layout options below:
All sofa legs on the rug:

With this layout, you'd opt for a larger rug to ground the space, creating more openness in your living room.

Front sofa legs on the rug:

This is a great option that we recommend when you want to make a room feel spacious or if a few pieces of furniture are against a wall.

All sofa legs off the rug:

This layout will work perfectly if you have a narrow or smaller space but you've chosen a small but pretty rug. To complete the look, you can even try layering up by

placing the small rug on a carpet

or a larger rug.
» Using a sectional instead of a sofa? See what rug size you need
3. Colors & Patterns
You'll want your living room rug to match and complement your furniture and décor. Whatever color or pattern you choose for your rug will help set the tone, establish the look, and create the overall mood of the space. For example, from our experience, a lighter color rug makes a room look bigger and brighter, while darker tones can give it a cozy vibe.
If you're going for a beautiful bold rug, it will become the focal point of your living room. On the other hand, a neutral or solid rug can really tie in with the rest of your color scheme. In addition to having the right look to match the vibe you're going for, your rug should also have a pleasant texture—after all, who wants a rug that looks great but feels funny? Not us!
How to Match Your Rug With Your Sofa
If you want to make sure your rug matches the design of your couch, consider these points:
If your sofa is a solid color, we recommend choosing a patterned rug. For instance, a rug with a classic geometric pattern can help add visual interest and texture to a plain white sofa.

A tried-and-true hack is to match the secondary color of your patterned rug to your sofa. For example, if you have a patterned rug with shades of green, blue, and yellow, you can choose a sofa with a shade of green in it to tie the entire room together.

Match a third color, if any, to your curtains, walls, cushions, or any other décor elements in your living room to create a polished look.

If your rug is a solid color and your couch is patterned, match it with other accents in the room like vases, candleholders, or the color of your walls. Anything else would just look too cluttered.
How to Match Your Rugs With Your Curtains
One of the most common questions interior designers are asked is whether curtains should match the rug. And if so, how do you go about matching them?
First of all, let us say that there's no hard and fast rule about having to match your rugs with curtains. It really depends on the overall aesthetic you're going for in your living room. However, if you do decide to match them, consider our tips below for a harmonious look.
Go mono:

One way to match your curtains and rug is by choosing similar colors. For example, if you have a beige or neutral-colored rug, you could choose curtains in a similar shade to create a cohesive look without being too matchy-matchy.

Go patterned:

Another option is to pair a patterned rug with patterned curtains, but make sure the patterns are different enough that they complement each other rather than clash. For example, if you have a rug with a floral pattern, you can go for curtains with a geometric pattern in similar colors to add visual interest without overwhelming the space.

Go bold:

If you're feeling bold, you can also try mixing different patterns and colors in your curtains and rug. For example, match a

rug with a bold geometric pattern

with curtains with a floral pattern. As long as the colors complement each other, this will create a really unique and eye-catching look.

Go neutral:

Lastly, if you want to play it safe, you can always choose a neutral rug and curtains in a coordinating color to create an overall relaxing effect.
Enhance Your Living Room Décor With the Right Rug
Finding the right rug can sometimes be stressful, but it's an important chore to ensure your living room décor comes together just like you envisioned it. We hope our tips above will help you make an informed decision and choose the best rug to elevate your living room décor. Happy rug hunting!
» Need the right rug to elevate your living room décor? Browse our collection of beautiful living room rugs and find the one that suits your taste and needs best.