7 Durable Rug Materials to Elevate Your Living Room

By

Natasha Johnson

Reviewed by

Michelle Meyer
Updated March 2, 2023.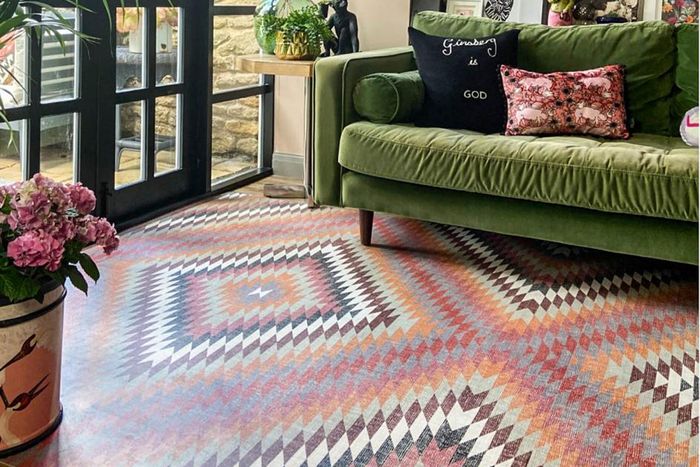 Choosing the right living room rug can transform and elevate this regularly used space. It can create the perfect focal point, enhancing the look and feel of this room, while bringing in a unique style and personality. Living room rugs also bring in a sense of comfort, creating warmth and coziness.
Once you're ready to make that leap in getting your fabulous living room rug, you must choose the right material. Ideally, the fabric should be comfortable and durable, strong enough to handle the foot traffic of this busy room. Here are the best rug materials to consider when choosing a durable and stylish rug:
1. Vinyl
Vinyl is a very practical choice of material because it's easy to clean and maintain. It also makes it an ideal choice for those who struggle with asthma and allergies. Vinyl rugs are durable and hard-wearing, therefore well-suited to withstanding the constant busyness of the living room area. They also often come with a non-slip reverse side to prevent any curling at the corners. Another bonus? This versatile material is easy on the pocket!
Because interesting and colorful patterns can be printed on this durable and almost indestructible material, a vinyl rug is an ideal way to bring texture and color to your living room, especially if big pieces like your furniture are neutral colors.
» Combine beautiful and practical with Stamped Reed Vinyl Rug
2. Wool
This material is a popular choice, thanks to its softness and durability. Wool is a strong and resilient fiber choice that can outlast synthetic materials. It's great for insulation and is water and stain repellent, but ensure to keep it away from any damp areas. Wool can absorb most substances quite easily, making it more resistant to dust and water damage.
Wool can shed when new, but this will lessen over time. It's naturally hypoallergenic, because it acts as a natural filter that traps pesky allergens and prevents the growth of bacteria. Wool rugs can bring warmth to a room with cold tile floors or can assist with acoustics in a room with high ceilings.
3. Nylon
Nylon is a resilient and strong fiber, allowing it to withstand a lot of movement. It also has absorbent properties, so stains won't sink deep into the rug and leave unattractive marks. Nylon has good texture retention, meaning it has good longevity and can maintain its shape for years to come.
Nylon fibers dye and retain color very well. Therefore, along with their durability, they're an ideal choice to introduce color and a focal point to your living room.
4. Flatweave
Flatweave rugs are a great budget-friendly choice that feels cozy and soft underfoot. Along with their durability and easy maintenance, flatweave rugs are the best rug materials for busy entryways, living rooms, and playrooms. They come in beautiful woven designs, so style doesn't have to be sacrificed for practicality.
5. Polypropylene
Because of their durability and resilience, polypropylene rugs are made to endure the busyness of everyday movements. However, these rugs are soft and still offer comfort to your living room.
Polypropylene rugs have the additional functionality of working well in outdoor spaces too, making them ideal for a family with children and pets.
6. Sisal/Jute
Sisal and jute are durable, renewable natural fibers that are thickly woven to make them comfortable underfoot, bringing warmth and texture to your living room space. These rugs are water and stain as well as excellent insulators.
7. Chilewich
Chilewich is a textile made from woven extruded vinyl yarns, created by New York-based designer and founder Sandy Chilewich. It's a durable and easy-to-clean material that can simply be wiped with a damp sponge or cloth. This material has a sturdy latex backing to prevent curling, but it's not waterproof, so liquids may seep through.
Conclusion
While we think that all the above rug options can work well for your living room space, vinyl rugs seem to be the way to go in terms of versatility, durability, and resilience. They also provide style and comfort to the room. After choosing your rug, the next consideration is where to place your area rug in your living room, as well as whether a larger or a smaller rug might benefit you.
» Didn't find what you're looking for? Visit our website for a wide variety of premium vinyl rugs.