8 Best Neutral Rugs to Bring a Natural Element to Your Home

By

Kelli Harris

Edited by

Nevena Radulović
Published January 12, 2023.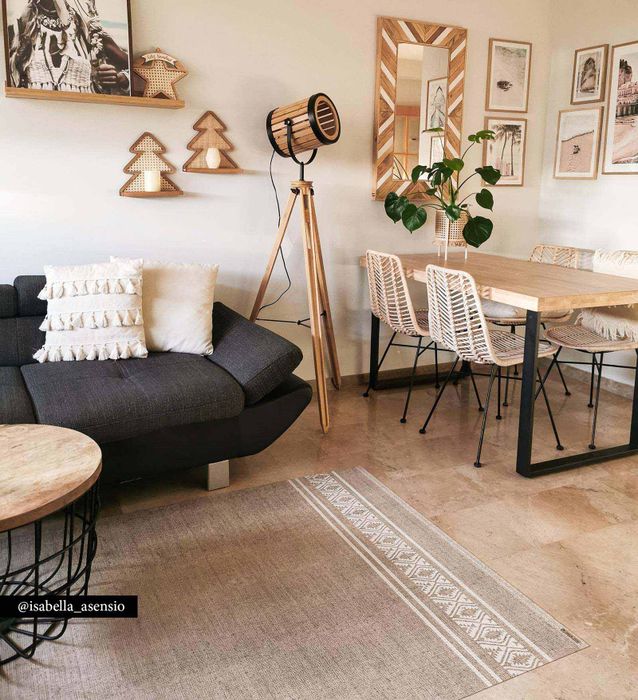 Creating a chic look for your home requires the perfect pieces—from choosing the best living room wall art to settling on smaller décor elements, bringing a harmonious feel to your home is no easy job. To complete the perfect look, selecting the correct rug for your living room, bedroom, or any other room you want to stand out is critical.
With such a wide variety of rugs available, how to make the best choice? If you want to keep your design options flexible, we recommend opting for a neutral rug that can serve as the perfect base for mixing and matching colorful bedding or patterned sofas to your heart's content.
In this article, we'll help you find your perfect neutral rug by offering our 8 picks for rugs that are easy to decorate around, practical, and versatile, in addition to bringing a sense of calm and sophistication to any space you choose.
8 Neutral Rugs to Create a Natural Feel
1. Best Neutral Rug for Adding Texture
The Stamped Reed Twist vinyl rug is a handmade, eco-friendly, and sustainable rug that adds warmth and texture to any room. Made from 100% recyclable, phthalate-free vinyl material, this neutral rug supports reforestation efforts, and you can easily integrate it into any décor style. The natural texture of the plaited reed brings a touch of nature into your home, making it feel more inviting and comfortable. To elevate the style of your space and create a cohesive look, we recommend using this rug in your living room.
» Bring nature inside with Stamped Reed Twist Rug
2. Best Tribal Rug for a Laid-Back Appeal
A beautiful addition to any room, the Tribal Natural vinyl rug adds visual interest and comforting warmth. With its laid-back, woven appeal, this rug features a tribal-inspired pattern in neutral tones, bringing a global flair to your home. If you want this rug to complete the look of your living room, we suggest positioning it beneath your coffee table or using it to create a cozy conversation area—either way, it will add a delightful touch of character to the space.
» Add laid-back charm to your space with Tribal Natural Rug
3. Best Braided Rug for a Rustic Feel
The Braids Natural Round rug is a tribute to early American settlers, inspired by the tradition of handmade braided rugs of the new colonies. Its versatile neutral palette allows it to effortlessly fit into any design concept, from a contemporary, streamlined style to a cozy, classic vibe. This round rug is the ideal addition to craft a snug and welcoming bedroom. For the full effect, we recommend positioning it at the base of your bed or at the heart of a seating area to inject some rustic charm.
» Create a rustic feel with Braids Natural Round Rug
4. Best Round Boho Rug for an Adventurous Touch
The Makeba Lily Round braided rug features vibrant earthy shades of clay reminiscent of African hand-woven baskets, lending a touch of the adventurous to your home. Made from our signature vinyl material, we believe this rug is perfect for high-traffic areas like living rooms, but it could also add some visual interest to a smaller space like a study.
» Bring an air of adventure with Makeba Lily Round Rug
5. Best Beige Rug for a Calming Atmosphere
As its name suggests, the Africa Natural rug is inspired by the traditions and cultures of Africa, and it features shades of cream and brown framed by a lovely Batik pattern. Due to its large size, we find this rug ideal for covering living room floors, helping create a cohesive, calming anchor. Like many of Beija Flor's rugs, its made from 100% recyclable, phthalate-free vinyl material for comfort and easy maintenance.
» Infuse your home with calmness with Africa Natural Rug
6. Best Rattan Rug for a Relaxed Look
Our Tatami rug is a versatile piece that brings that relaxed, resort look of the far east into your living space. Drawing inspiration from rattan, straw, and reed, this neutral rug adds just the right amount of texture to any room. As it's made from durable vinyl material, we recommend using it as your kitchen rug for in front of the sink, as your entryway rug, or in any other area that suffers from everyday wear and tear.
» Introduce a relaxed look with Tatami Rug
7. Best Antique Rug for Adding Vintage Style
The Rita Smoky rug is a stylish choice for adding antique character to your home. Taking inspiration from Persian rugs steeped in cultural tradition, this rug will add a sense of timelessness, regardless of your particular design style. The rug's muted palette and intricate patterns bring a sense of serenity to any room, but we feel it's best suited for a bedroom, to truly make it a space for complete relaxation.
» Add a timeless feel with Rita Smoky Rug
8. Best Wood Rug for a Natural Aesthetic
Our Wood ArtWood rug is a statement piece with shabby-chic and rustic charm. Its wooden pallet floor composition creates a distinct aesthetic, with each piece fitting together like a puzzle to form a cohesive and eye-catching design. Despite its unique look, we believe the neutral tones of this piece make it an easy choice for any décor style, whether you're aiming for a minimalist look or a more traditional one.
» Achieve a natural aesthetic with Wood Art Black Rug
Introduce a Natural Element With the Right Neutral Rug
Neutral rugs are incredibly versatile, lending themselves to a variety of interior styles and designs and creating a feeling of tranquility in any room. Bringing an element of nature with its subtle hues and natural textures, the rugs on our list will bring coziness to your abode.
Whether you want a natural rug for your entryway or a specific room in your house, these neutral rugs will not only bring a sense of nature but also serve a practical purpose due to their durability.
» Didn't find what you're looking for? Take a look at our full range of vinyl rugs to find the perfect neutral piece that will bring a sense of nature to your home.