7 Best Cozy Bedroom Rugs to Add Warmth to Your Space

By

Natasha Johnson

Reviewed by

Nevena Radulović
Updated January 12, 2023.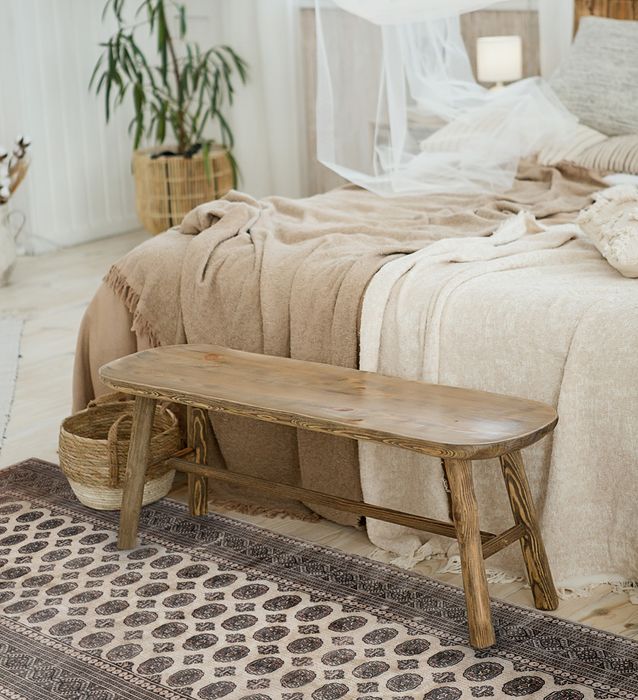 Our bedrooms are our most intimate spaces where we come to rest and recover, yearning for coziness after a long day. Although bedrooms are often neglected in terms of interior design, you can transform the look and feel of this space almost instantly with the right rug and matching décor. Choosing the right area rug for your bedroom allows you to bring a unique personality and warmth, especially if you mind where you're placing your bedroom rug and what material it's made of. Whether it's layered or large, hung on the walls or placed as a focal point, you can never go wrong with a bedroom rug.
In this article, we bring you 7 of Beija Flor's gorgeous bedroom rugs to warm up your intimate space.
7 Gorgeous Bedroom Rugs to Transform Your Space
1. Best Black & White Rug for a Cozy Space
The woven laid-back appeal of the Native Black rug offers a lovely warmth and texture to a bedroom. The classic black and white palette is a versatile combination that can visually ground this space, anchoring the overall look of your bedroom. This runner can be placed alongside your bed for extra coziness. You can match your décor by adding elements like wall art pieces in a similar color palette: stone grays, black, and white. To complement the rug's texture, you can add wood bedside tables to enhance the sense of warmth. And if you want a pop of color, add bright citrus yellow pillows or a throw blanket for visual contrast.
» Go back to basics with Native Black Rug
2. Best Textured Rug for Adding a Playful Note
Patterned rugs provide texture and fun pattern play that can be matched with your throw pillows, curtains, or lamp shades. Muted or monochromatic walls and pleasant greenery or other organic elements such as colorful flowers will best complement this gorgeous rug, adding whimsical warmth and depth to your bedroom.
» Play with patterns with Barista – Modu Floor Rug
3. Best Bohemian Chic Rug for an Eclectic Tone
Rugs can offer a great way to make any room feel cozier and warmer, be it during winter or all year round. The Bohemian Garden Black & White Flower rug has a traditional floral design that will help set an eclectic tone with its repeating patterns to show off your personal style and help define your bedroom space. It would be best matched with décor pieces such as a colored leather chair and light muted walls to really bring warmth into your bedroom.
» Go for floral chic with Bohemian Garden Black & White Flower Rug
4. Best Bedroom Rug for Layering
If your room has a neutral look, you can transform it by taking the time to create visual interest. Although indigos and blues are cooler tones that one wouldn't think could add warmth, when matched with complementary bright yellows and glowing oranges, this African Indigo rug can help set a warm and serene scene. For a fuller effect, layering your bedroom rug with rugs in similar shades and hues can add dynamism to your space.
» Layer it up with Africa Indigo Rug
5. Best Floral Pattern Rug for a Traditional Feel
Beija's very first kilim art piece, the Mary Black rug will add a lovely floral and feminine energy to your bedroom. This bold floral rug will bring a breath of fresh air and tranquility into your space, brightening it up instantly. Although the rug's print is traditional, you can also go modern with it, keeping other décor elements in solid colors that match the red and green of your rug.
» Add a traditional vibe with Mary Black Rug
6. Best Braided Rug for a Rustic Bedroom
This soft and subdued round rug will suit any bedroom space. Its neutral color will match any décor, whether you're going for a natural rustic approach or a more contemporary feel. Be inspired by the rustic nature of a warm, summery Mediterranean villa by matching the rug with fresh greenery and gorgeous white flowers, or match your blankets and pillows with warm terracotta reds and browns reminiscent of a cozy farm cottage.
» Create rustic appeal with Braids Natural Round Rug
7. Best Floor Rug for an Elegant Feel
Create a rich cohesiveness with this rug's blend of faded creams, browns, and subtle golds for a warm and soothing space finished off with more neutral furnishings. For an elegant décor scheme, pick the accent colors from the rug that you love most and choose throw pillows or blankets to match. Curtains in complementary colors or patterns can bring the room together nicely. These rugs can also complement a more modern room when covering floors in gray tones or placed on a carpet in soft creams.
» Add a touch of elegance with Rita Smoky Rug
Make Your Bedroom Cozier With the Right Rug
And there you have it! These 7 premium vinyl rugs from Beija Flor are perfect for any bedroom aesthetic you're going for to add a sense of warmth, safety, and comfort to this intimate space. Area rugs are a simple and effective way to bring life to your bedroom, give it a quick makeover, and uplift your space of rest. Not only are they gorgeous, but they're also very versatile, easy to clean and maintain, and will last you for years to come.
» Didn't find what you're looking for? Visit our website for more bedroom rug options and find the one that will warm up your space.