7 Vinyl Rugs For Adding Mediterranean Style to Your Kitchen

By

Marie-Claire de Villiers

Edited by

Michelle Meyer
Updated December 1, 2022.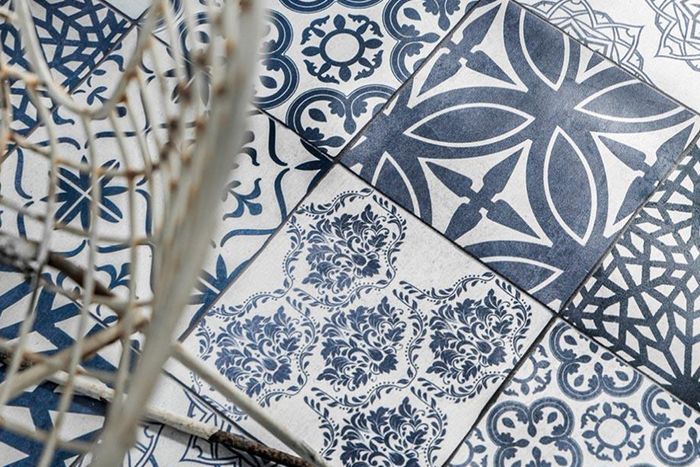 The Mediterranean style is a classic, timeless look that adds interest, energy, and color to any space, and works particularly well in a kitchen. The design incorporates Greek, Italian, and Spanish patterns, and often features neutrals, earth tones, yellows, blues, and whites. For your kitchen décor, consider using textures such as terra cotta, clay, tiles, and natural materials.
Our range of premium vinyl rugs includes seven wonderful Mediterranean options, each with a unique character. This vinyl flooring is easy to install, durable, and quick to clean, making it the perfect base for your kitchen.
Kitchen rugs can also function well as complete artworks—dramatic centerpieces and great conversation starters allowing you to relax into the evening while you pour the wine.
This traditional Armenian-look kitchen rug in black, grey, white, and soft forest green expresses a gorgeous grace and elegance in its leafy curlicue design. Pairing excellently with modern greys, chic black stone countertops, or calming greens and blues, this flooring will add instant interest to an otherwise neutral-decorated space.
» Breathe freshness into your kitchen with Armenian Eclectic Amber Concrete Rug
This rust and white colored vinyl flooring presents a classic Mediterranean design of Greek and Italian patterns. Using this statement vinyl rug in your kitchen classifies it as Mediterranean-style in one easy move in a conveniently short time. Its strong character provides the perfect easy Mediterranean base for other earthy décors to complete the look.
» Bring an earthy feel with Eclectic Bordeaux Rug
Grand, stately, modern, and simple, this design will raise the value of your space in one fell swoop. The dark grey neutral pattern presents a bold and attractive groundwork for color accents, soft textures, and an exclusive-feeling atmosphere.
» Infuse your kitchen with grandeur with Borgo Lily Antique Rug
The Eclectic Natural premium vinyl rug presents a pale-taupe-colored design that provides a soft and tranquil feeling to any room. Used in the kitchen, this rug will add a Mediterranean feel and work well as a gentle canvas for stronger or more eye-catching décor items, perhaps in bright hues of blue or yellow.
» Add a gentle element with Eclectic Natural Rug
The Borgo Eclectic Smoked Antique lives up to its name with hot clays, oranges, and yellows, as well as ashy greys and blacks. This is the perfect kitchen rug for warming up your cooking sessions in cold winters, inviting your guests to share the space and keep you company.
» Make your space seem warmer with Borgo Eclectic Smoked Antique Rug
Traditional and distinctive, the Magnolia Beige Antique injects a dash of burned crimson, lifting the kitchen into a romantic, Spanish setting. This beautiful design can provide a prominent piece of art to an otherwise neutral room, or function well as a central piece from which to design the rest of the space. Add red or dark pink flowers, ceramics, or tablecloths to spread the color further around the space, combine with blacks for a stronger look, or surround with pale beige to keep the elements calm.
» Decorate with a sense of tradition with Magnolia Beige Antique Rug
The Eclectic Spring kitchen rug brings the energy and vitality of the Spring season into the home with its bustling collection of patterns and colors, lovers of celebration and the young at heart. The lively flowers, popping yellows, and pretty purples have been woven together to create a surprisingly effective continuity and pure joy for the eye. This Mediterranean design pairs well with minimal kitchen décor to allow it to take center stage and works superbly for those who love to eat and party in the kitchen.
» Create eternal spring with Eclectic Spring Rug
Conclusion
Whether seeking calming neutrals or fiery colors, statement pieces, or smooth background canvases, our Mediterranean design kitchen rugs will supply your home with what you need. Incorporating a playful pattern or attention-grabbing design allows you to bring a piece of art into the room while attaining all the wonderful functionality of quick-wiping, no-damage vinyl flooring in your foodie happy place.
» Didn't find what you're looking for? Visit our website for more Mediterranean-inspired rug options